PunchPass for Teachers
The PunchPass system takes over the functions of maintaining the class schedules, student sign-ups, class attendance and managing various types of single class payments and monthly memberships.
Create Account
DONE ONLY ONCE
Create your PunchPass Account
You got an e-mail invite to create your PunchPass account. CLICK on the Create My Account button.

Correct your First and Last name, if needed.
ENTER A PASSWORD you will remember!
CLICK on the

Create Account

button.
LOG OUT button is at the TOP RIGHT corner
Or Explore by clicking on "SCHEDULE – LIST" for the current calendar
Find your a class you will be teaching and click on the name. It should look somewhat like this one (1) hour/day BEFORE your class starts.
You're done.
Before Class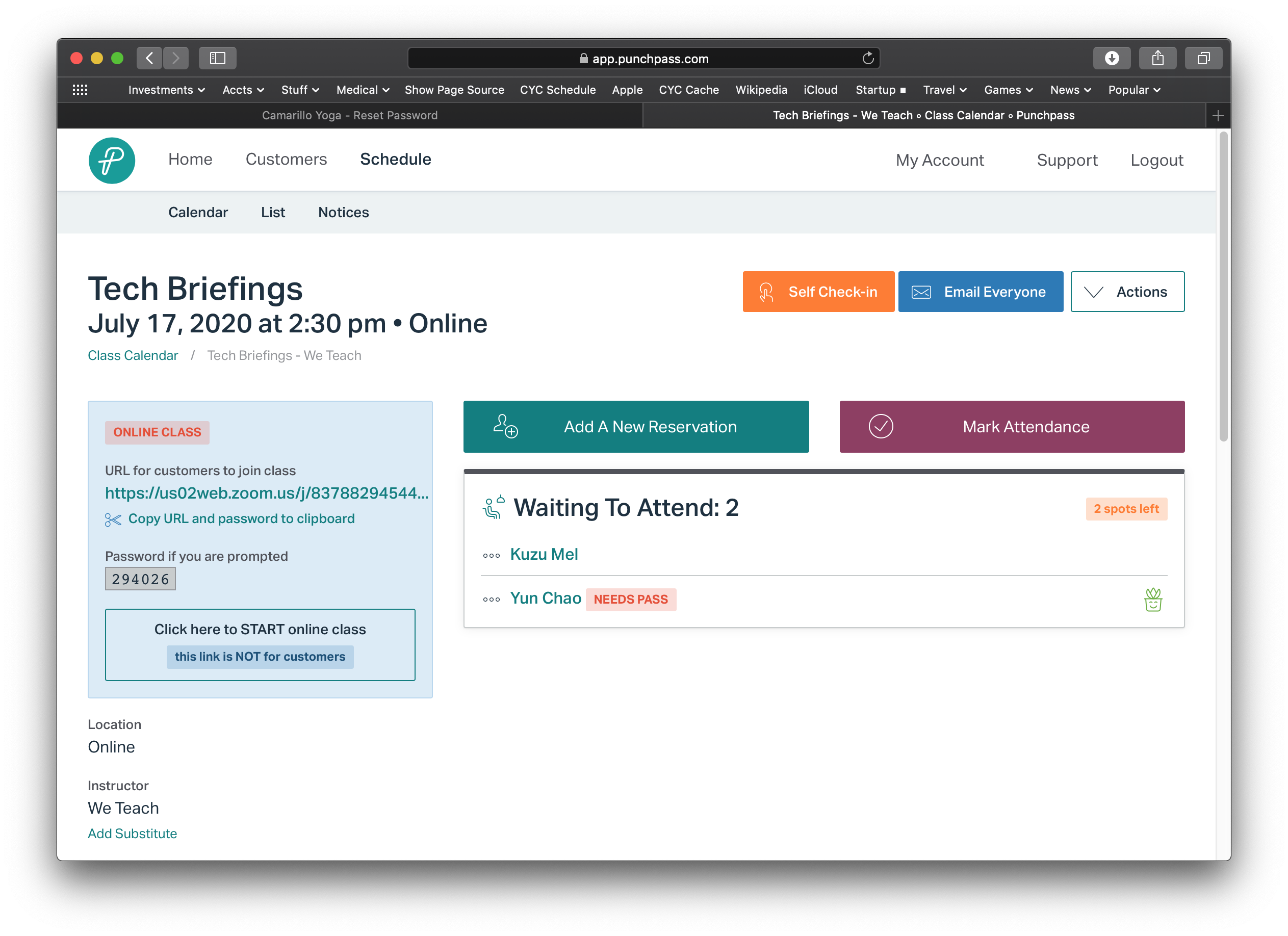 Prepare for Class
Both studio and online classes start the same.
In the web browser, go to App.PunchPass.com
Log in using your e-mail account and password
Click on your class, which should be at the top of the list.
The RIGHT SIDE is the LIST OF REGISTERED STUDENTS
The LEFT SIDE has a blue shaded area.

IF THIS IS A ZOOM CLASS, look for the "Click here to START ONLINE Class" and CLICK IT.
If someone just shows up (live class), search for their name or add their account (email) and take cash payment.

On the Zoom client,

Click the Allow Zoom.us button as Zoom starts (You may need to log in as we.teech@camarilloyoga.com on Windows. Macs and Linux do not have that extra step.)
Click on the Participants icon (Bottom on Mac iPad/Laptops, Top for smartphones/Windows)
Adjust your WEBCAM picture so you are front and center!

You are ready to take attendance. CLICK the "MARK ATTENDANCE" button.
Yes. It is possible to accept credit cards on site using PunchPass, but Audrey wants to discourage that.
Attendance
Taking Attendance!
This is important!
As each student arrives …
Their name shows up on Zoom's Participants list, and a blue "Admit" button appears.
Click on the

Admit

button
Click on their name in the PunchPass

Attendance

List.
OR be lazy and click on "MARK ALL" if the numbers are close.
Find and start Zoom recording button
If this class is to be recorded, then start recording before you begin.
Do your class.
Find and STOP Zoom Recording button.