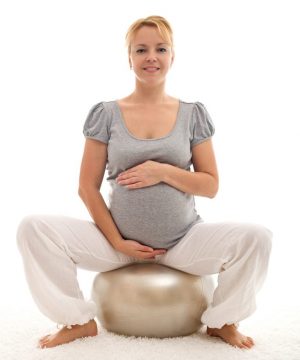 With Tara Stivers
Certified Childbirth Educator and Lactation Consultant
Saturdays, 10:00 to 11:15 PM

This Class is Currently On Hiatus

Mamas-to-be who have passed 14 weeks and have doctor's verbal ok may attend Yoga 1 & 2 classes.
Our teachers are all trained to modify for pregnancy.
Location: Camarillo-Somis Yoga Studio

No previous yoga experience is necessary for this gentle, nurturing, educational class. Pre-natal yoga helps develop strength, endurance, flexibility, relaxation and breath awareness—all key elements of a healthy, positive pregnancy and birth experience. This modified yoga practice uses focused breathing, labor-friendly positions and relaxation to promote physical health and help mothers prepare for childbirth. Valuable information about pregnancy, labor and birth is shared, and moms-to-be provide support to each other during this exciting journey.
Each mother's labor and birth experience is different, but many pre-natal yoga graduates will tell you that her yoga practice helped her stay strong, calm, and focused. Our pre-natal classes have produced a wonderful crop of beautiful healthy babies, many of whom go on to join our "Baby Yoga and Infant Massage" class.
Begin anytime after 13 weeks, with verbal permission from your doctor regarding exercise.
Questions? Click to e-mail Tara!
Fees: $16 per class CLASS PASS Free First Class
Read what past students have to say!
"I always looked forward to Tara's prenatal yoga classes and would drive a half hour past my house after work just to attend! The class helped me have a very easy pregnancy and was not only great exercise, but also a much needed support group. I met so many wonderful women in the class whose babies are now growing up with my daughter. Tara is so patient and knowledgeable and also helped me a lot with breastfeeding after the baby was born. I am so grateful that I had her around during such an important time of my life!"

– Floria and baby Keira
"I took prenatal yoga with Tara Stivers at Camarillo Yoga, and it was a lifesaver! Tara realized that a healthy body starts with a healthy mind, and that during pregnancy both are equally as important. Her classes started with discussion/bonding time and then moved onto yoga, allowing the body to be unencumbered by concerns by the time exercise began. It was a fantastic combination and I couldn't have made it through the pregnancy without it. Thank you Tara and CamarilloYoga!"

– Alejandra, Camarillo
Dear Tara,

Thank you for helping us welcome Sophie into the world. I'm amazed at what my body can accomplish, and you helped me do it! Having you as our doula really put our minds at ease. You were so in tune with giving me what I needed when I needed it – whether it was going through some yoga poses or rubbing my lower back. You were the perfect addition to our birth team! Thanks so much for everything!

Warm Regards,
Dorothy, Dan, & Sophie Juniper Hanchey
Dear Audrey,

Just wanted to thank you again for the wonderful pre-natal yoga classes. Your classes and relaxation techniques (especially the breathing) contributed to my amazing 10 hour labor without medication.

Your classes provided such a warm, caring environment, with a strong sense of community. Thank you for all your warmth, support and encouragement- your class contributed to a truly empowering birth experience. I'm in awe of the birth experience, my body's capabilities, and my beautiful new son. I can't wait to do it again!

Dorothy Peters-Hanchey, and son, Edison Bean
Join us after your baby has arrived for newborn parenting classes
Nurturing Touch: Infant Massage 'N More for mothers and babies during their first six months