Yoga teaches joy in movement without measurement or competition.
Give your children the gift of yoga, which will last a lifetime.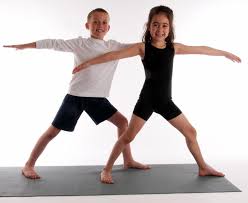 Now Registering for February 2021
Julie is offering outdoors children's/family yoga classes in Camarillo (again) starting in February.
For more information on her Public and Private classes for children/family yoga classes,
No class during Thanksgiving week, November 29
For children from ages 6-10!
Pre-registration Required
Please note: This class is by session, not a drop-in class.
Through simple breathing and focusing practices, children learn to steady their attention, helping them stay calmer and more focused while they stretch and strengthen their bodies. As part of a class that values process over end result, children find "success" through being curious about how their bodies move, and how to work with one another co-operatively.
These fun and engaging classes include creative movement and games, mindful relaxation and kindness practices.
Julie Markovitz is a native Southern Californian who started dancing and yoga from a young age. Julie has a BA in Child Development and Dance, as well as published both a book and videos about the topic.
Sign up for an upcoming workshop
Cancellation Policy: Because this is a specialty class, please note our cancellation policy below. If you choose to cancel for any reason:
Due to class size limits, we are unable to refund the fee.
By registering for this course, you agree that you have read and understood the Cancellation Policy above.