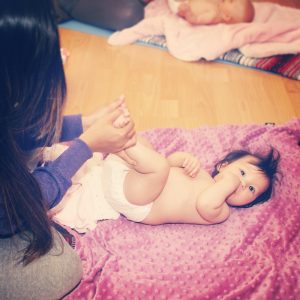 With Pamm Klieman
Sundays 12:30 – 2:00 PM
Now Registering:
WILL ANNOUNCE NEXT SERIES

Pre-Registration Required
Class size is limited to optimize learning and enjoyment
In addition,
Babies must be 3 weeks to 6 months old.
Oil for your baby will be provided.
Napping, fussing or babies who need feeding are no problem. This class series is designed to meet your baby's needs.
Dads and family members are invited to the last class meeting.
Contact Pamm Klieman at 805-258-9225 or e-mail DoulaPamm@gmail.com for questions or concerns.
More Info at MamaBabyTransitions.com
Once you complete pre-registration, you will receive an introductory e-mail with more specific information: oils, what to bring and wear for you and baby, etc.
I am so looking forward to meeting you and your little one!
Did you know that touch is the first sense to fully develop in the womb and that skin is most sensitive organ of our body? So it's no accident that first communication between mama and baby begins with touch and it's a fact that babies need touch just as they need nutrition and napping!
This 4 week series is a unique opportunity for new parents to learn Infant Massage while learning about your baby's behaviors, sleep strategies for you and baby, schedules and routines and so much more…all while learning one of the most powerful communication tools for your baby…Infant Massage.
This unique class series is a safe place for you to address your concerns as a new parent and share your experience, while you care for your baby the best possible way…with Infant Massage!
Infant Massage may promote
Increased communication with baby
Enhanced brain development for baby
Positive self-esteem, respect for baby
Stress reduction for baby
Improved circulation, relieve gas/colic
Increased intimacy with baby…great for dads
Better sleep for baby and you!
Come relax and enjoy the quiet, away from life's distractions and demands. It's just you and your baby with plenty of new mama support. Many remark "The time goes so fast, do we have to leave now?"
About Pamm Klieman, CAPPA Postpartum Doula
I am a certified CAPPA (Childbirth and Postpartum Professional Association) Postpartum Doula with certifications in Lactation Education and Consulting (CLEC) and Infant Massage. I am Nurturing Parent Educator as well, with graduate and post graduate studies in Pre & Perinatal Psychology. As an activist in the Ventura County birth community, I initiated many of the most progressive practices in hospital settings today and have provided over a 1000 hours of birth education, labor and postpartum support for friends, family and community members, including military families of the Naval Base Ventura County (NBVC). At NBVC I reenergized the Navy's New Parent Support Program, and received national recognition for marketing strategies and innovative program development. I am so pleased to be able to continue my work in a Doula capacity!
My 2 children are grown now and I am a Grammy of 4 girls, 0-12 years of age and an Auntie of 6! My quest to share my expertise on postpartum, newborn communication, baby care, and breast, bottle and feeding and more. I am especially passionate about empowering new mothers and their families, to find their groove and live it.
"The beginning is the most important" — Plato
Join us before and after your baby has arrived for newborn parenting classes
Pre-Natal Yoga and Birth Preparation adapts yoga to promote physical health and prepare for childbirth.