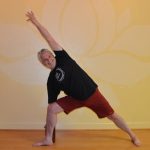 Begin your practice with education!
No Flexibility Necessary.
Functional Yoga works with your current body to keep or improve your flexibility and strength.
This series introduces
Basics of Functional Breathing
Healthy posture on the mat and in daily life
How fascia release helps improve your movement
Strengthening and balance for adults of all ages
Begin your practice with a mature professional who gives personal attention to each student.
Register for Next Series
Click to Register At Pleasant Valley Parks & Rec.
Look for the "Health & Wellness" box
Functional Yoga Beginners Series
Camarillo Community Center
1605 E. Burnley Street, Camarillo, CA
Wednesdays, 6:00 to 7:00 PM,
March 22 – May 10
May 17 – July 8 (Spring)
July 12 – August 8 (Summer)

Please Note: Class passes and gift certificates from Camarillo-Somis Yoga are not valid for these classes. However, if you miss a class during the series, you can make it up at the yoga studio
Functional Yoga Drop-in Classes
Camarillo-Somis Yoga & Mindfulness Studio