95-year-old stays active and healthy at local yoga studio
by Mark Storer
Special to the Acorn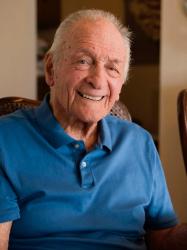 George Benson has been active all his life. He ran a floor care and cleaning business in the San Fernando Valley from 1977 to 2001 and has always done his best to keep moving every day.
The lifestyle has worked well for the soon-tobe 96-year-old Leisure Village resident.
Benson said he felt he was slowing down about 10 years ago when he had a back issue—a problem that led him to try yoga and a whole new way to move his body.
"My wife, Joyce, and I were walking by the shops up on Santa Rosa Road, and we walked by the yoga studio there. I said, 'Why don't we go in there and ask them about my back?' It changed my life," he said.
The studio was the Camarillo Yoga Center on Santa Rosa Road.
"He was already standing really straight and he had good posture," said Audrey Walzer, owner and director of the center. "He got his back better and pretty quickly he was doing intermediate classes. He really works at it and at that time was in classes with 20- and 30-year-olds."
Benson, who has been a vegetarian for more than 65 years, was "in love with yoga," he said. He worked at it and began subscribing to yoga magazines.
"It became not only physically good for me but also a social thing. I've met great friends through yoga, including Audrey."
But about three years ago, Benson developed an eye disease that required him to wear an eye patch while he healed.
Walzer said wearing the patch caused Benson to look down when he walked.
"The result was that he got hunched over pretty quickly," the yoga instructor said.
Benson now uses a walker and that has led to problems with his legs, Walzer said.
"We're working on loosening him up a bit," she said, adding, "He's been able to get back some range of motion, and we're getting there."
As Walzer talks, Benson demonstrates some of the stretches and movements that help him.
"It just allows me to feel better," he said. "It upsets me to no end that I have trouble walking, but it's the hand I've been dealt and I've got to deal with it."
Benson served in the Navy during World War II, based at Pearl Harbor after 1941.
"I was supposed to serve on a ship called the Blackhawk that was headed to the Philippines," Benson said. "But a lieutenant I knew wanted me to stay with him at Pearl, and he transferred me. I must have been pretty lucky because the Blackhawk was torpedoed and they lost a lot of men. I could have been one of them."
Benson married after the war. He and his first wife had four children before she died. He married Joyce 37 years ago and they had one child.
Joyce doesn't do yoga, but she said it's been good for her husband.
" He really loves it. His friends come from there and it really does help him physically," Joyce said.
"I'm really glad he went into the classes. It's been wonderful."
Walzer says yoga is good for anyone of any age.
"The biggest thing that people say to me is, 'I can't do yoga, I'm not flexible.' It's kind of a misnomer," Walzer said. "Yoga is a tool to keep yourself healthy and balanced. It's not about being good at it. It's not about a standard or goal. It's about practicing healthy living."
Benson will continue to do his best to stay healthy.
"The thing is, I move a lot and I eat fresh foods," said Benson. "It doesn't hurt that there are a lot of pretty girls who go to the classes with me, either."
http://www.thecamarilloacorn.com/news/2013-02-01/Family/Stretching_it_out.html